Going beyond Goa
Shalini Rawat
Reflected in Water: Writings on Goa
Ed. Jerry Pinto. Penguin Books.
Pages 295. Rs 395.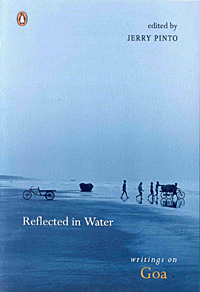 There is something to be said about the 21st century. We all come from somewhere else, belong somewhere else. Yet never own up. But as Ganesh baba's words, who professes to be a hip yogi from Goa, console you, "It's alright to be a stranger". This book, too, is not about, or for the Goans alone. It is for all of us who move in strange lands and are visitors (or even strangers?) to the land they are supposed to belong to.
The editor concedes in the introduction that Goa "sneaked up" on him long after he had struck roots in Mumbai, or almost. Maybe Goa was part of his memory space all along. Maybe this book is a way of owning up.
The Goans were ruled by Hindu dynasties as far as records go with a small period of the Muslim rule till the Portuguese took over from 1510 to 1961 after Vasco de Gama set foot in 1498 and henceforth dominated the marine route of the profitable spice and opium trade. Forced conversions ensured that one-third of the population turned Roman Catholic. Hence Marathi, Konkani (if you concede that a dialect is a language in the making) and the Portuguese language and culture have jostled for space ever since. With Goa becoming a major tourist attracting state, the West and its languages (primarily English) and culture are making an overlapping presence.
Against this background you have Gita Mehta's delightful take on the tug-of-war between the perverse hippie community and the conservative locals. Contrast this with an ex-hippie's narrative who seems to be glad to have been washed ashore this virtual bohemia. The Goans' favourite topics of debate, i.e., the colonial rule under the Portuguese vis-`E0-vis 'Indian' rule and the great language debate featuring Konkani versus Marathi versus Portuguese versus English find fair representation in writings by William Dalrymple, Prabhakar S. Angle, Armando Menezes, George Menezes. The only article that hints on a note of conciliation is by Maria Aurora Couto.
Stories by Nisha de Cunha, Pundalik Naik, Margaret Mascarenhas and Sonia Faleiro seem to have sprung from the very skin of the sea, weaved wave by pale thin wave and left on the shore like abandoned snakeskin for the reader to stare and wonder at. They express the painful reality of oppression of the female and/or marginalised voice poignantly.
The ex-pat Goans, which means a majority of the young and able, mostly have some brave poems to their credit (owning up or reclaiming their homeland?) as in Eunice de Souza's Idyll: "When Goa was Goa/my grandfather says/the bandits came over the mountain/to our village/only to splash/in cool springs/and visit Our Lady's Chapel" or Santan Rodrigues' refrain of the exile's anguish when he writes "`85this land which ached your body/with memories of home/bears your dead weight." There is even a translation of a famous Konkani folk song as well as R. Parthasarthy's rather 'academic' piece in verse. But Peter Nazareth in Rosie's Theme says it all: "Goa is a country of old people, waiting for death and for the young to return."
Actually, reading this book is more like partying, seriously. You come across people whose viewpoints make you think and others who make you want to own a viewpoint, there are outlandish yarns (spun out well) and sincere poetry, fun and feni as well as tales of man's beastliness and darkness and despair—a fine cocktail nevertheless. The editor has taken care in serving a platter that suits all tastes. As the history of Goa recedes, one can always find some interesting narrative pieces to indulge in on any long afternoon about a place where it can be "fun and maddening to be on holiday 365 days of the year" (from Summertime in Malkauns by Samita Mehta).
Courtesy: The Tribune