Goa Blog decided to get this article in the interest of architects seeking knowledge about Goan Houses…..
On request by one of our dedicated readers. Name of the reader is not disclosed on his request. 🙂
Goan houses are unique and distinct in nature. The grandeur of these houses has attracted folks from across the world.
Some of the houses with Tulsi Vrindavan add aesthetic value. Some of the houses constructed in the beginning of this century represent perfect blend of traditional Goan and influence of Europian architecture. The houses have interiors decorated with lavish wood carvings.
Many old houses in Goa have "Balcao" (a special arrangement for seating at the main door) and "Aangan"(open plane land) on the front side of the house. Some palatial houses and even those of landowners which have been inherited from royal families have "Rajangan" (open space at the center of the house).
A few pictures
A house with Rajangan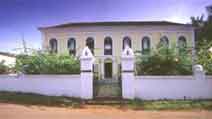 Siolim House