With temples in the state failing to adhere to the police advisory on security, the Goa police has issued a fresh security advisory to the temples requesting them to take proactive security measures at places of worship to prevent desecrations and thefts.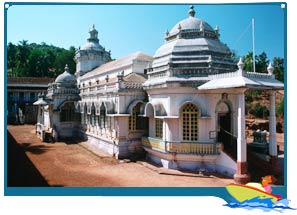 As per the new advisory issued by SP (north), the police have asked temple authorities to install an alarm system and adequate CCTV cameras with at least 30 days storage capacity at all the access points, sanctum sanatorium, and also at other strategic points, so as to bring the whole place of worship under surveillance.
The CCTV footage should be monitored and be made available to police.
Also, temples have been asked to employ adequate number of security personnel for proper security check and guarding of place of worship. 'In case it is not possible to deploy sufficient number of security personnel, minimum one security guard should be deployed at least during the night time,' the advisory stated.
The security guards need to be provided with a torch, 'lathi' and a register which would be signed by police on patrol duty after checking the alertness of security guards, the advisory stated. 'The security guards must be hired from a registered security agency only. Their antecedents must be verified through police. Their photos and other personal details should be kept on record and copies of the same may be provided to police. Likewise, the verification of other employees should also be got done through local police station by filling employee verification forms,' it stated.
Besides, keeping the number of access points to a minimum of one, the temple authorities have been asked to install a door frame metal detector at entry points and every person should be frisked. To prevent theft of cash from donation box, the advisory stated, 'The cash from the donation box should be collected on day-to-day basis. In case there is no daily clearance of cash, then the donation box should be fixed to the floor on a concrete platform with proper locking system.'
'All gold and silver ornaments and valuables should be kept in a bank locker. If the ornaments cannot fit into the bank locker, a heavy safe with a good locking system is recommended. In fact, a strong room with multiple locking system would be highly safe,' the advisory added.
Courtesy : TOI